A Home Study Continuing Education Course for
Psychologists, Marriage and Family Therapists, Social Workers, and Mental Health Counselors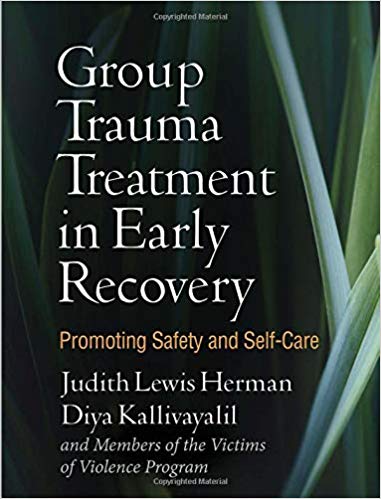 Group Trauma Treatment In Early Recovery
Judith L. Herman, MD, and Diya Kallivayalil, Ph.D.
2019. 101 Pages
6 Hours CE Credits
30 Questions: True/False and Multiple Choice
Click below to Order
The Trauma Information Group (TIG) is a time-limited approach to group treatment for individuals who have suffered prolonged and repeated interpersonal violence and/or abuse. The TIG uniquely combines a grounding, psychoeducational, and cognitive framework with a structured and supportive relational group process for individuals in Stage 1 of trauma recovery. This course presents key elements of conducting a group of this kind as well as adaptations for various patient populations.
Learning Objectives:
List at least three characteristics of the Trauma Recovery Group (TIG).

Name at least three criteria for inculsion in the TIG.

Describe the structure an content of TIG sessions.

Discuss considerations for group leadership.

State the results of at least one outcome study of group treatment for trauma.
Course Outline:
Group Treatment for Interpersonal Violence

Overview of the Trauma Information Group

Structure and Content of Sessions 1 and 2

Structure and Content of Sessions 3 - 10

Group Process and Group Leadership

Adaptations of the Trauma Information Group